When we move to Paris this summer, we'll each be allowed to take a certain number of pounds of goods with us that will arrive the same week that we do. Those pounds will add up fast, and will consist almost entirely of clothes, shoes, starter essentials like toothbrushes and (for me) lipstick (obviously!), as well as laptops and other small electronics. A separate shipment will contain furniture, but it will take about a month to arrive, so we'll be living out of a free furniture "starter kit" for our first month in Paris. (If you're imagining shiny new items from Ikea for the starter kit, think again. It's more like old stuff from your Uncle Harry's attic that wasn't that great when he bought it in the seventies and hasn't improved with age).
Cutting our possessions by (at least) half
In 2009, we moved from a 1200 square foot house in San Francisco to a 3,000 square foot house on the Peninsula. Somehow, in the intervening years, our stuff has expanded to take up the whole house, as stuff does. In Paris, we'll be downsizing again, probably to a flat about the same size as the house we moved from, or smaller.  That means that about half of our furniture can't go with us. Books will have to stay behind too.
I suppose the obvious quick fix would be storage, but there's really nothing quick about storage. You have to find and rent the place, organize your things, move them, and then move everything back at a later date. I've always been opposed to the idea of long-term storage. It just seems like a lot of trouble and expense, unless you're sitting on a lot of fancy antiques and family heirlooms you can't part with (we're not).
Ever since we decided to move, I've been slowly chipping away at the stuff. I've sold books, donated a few dozen items of clothing, given some of my son's favorite old toys to my nephew, sold a couple of items of furniture, donated the fryer we used exactly once (I can't imagine what possessed me to buy a fryer), the crock pot I used only a handful of times, a couple of coffee makers, and some other dishes and kitchenware. But beginning January 1, I'm in it for real. I've joined the Apartment Therapy January Cure, as I do every year, although in the past I've never made it all the way through January. The January Cure is more than a decluttering project; it's also a home improvement and healthier living project. It involves doing all the little things you've let slide, like patching the paint on your kid's bedroom wall, fixing the loose board on the stairs, etc.
I've also just purchased Soulful Simplicity: How Living With Less Can Lead to So Much More, by Courtney Carver. I read Carver's Simple Ways to Be More With Less some time ago, and I find her blog, Be More With Less, super inspiring, so I was excited when I discovered she had a new book out. (But decluttering is about getting rid of things, not acquiring things! you say. That's why I purchased Carver's book for my iPad. I do so prefer physical books, but at this moment in my life, I'll have to buy physical books only for gifts, and stick to ebooks for myself for a few months. Although I very much look forward to exploring Paris bookstores and starting my new collection there!)
Which brings me to my initial three-pronged downsizing projects, which begins with…
Paris Declutter Part 1: Downsizing my Books Collection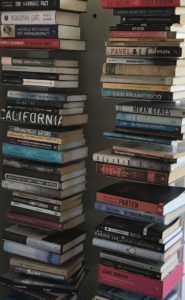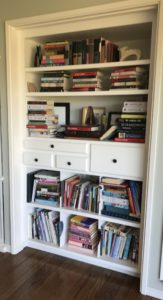 My husband and I are both readers, and I make a living as a writer, so we have a lot of books. They fill every bookshelf and are piled in corners of the house, on the floor, on my bedside table, pretty much everywhere. Two storage rooms downstairs are partially given over to books. My office has a wall of built-in shelves, and we have built-in shelving in the living room too, not to mention a wide fireplace mantle in the family room that is home to about a hundred books. There are books in plastic bins in the unfinished area under the house. We don't do that thing they recommend in design magazines, whereby your bookshelves "breathe" and have white space and are home to small, exquisite objects. Our bookshelves are jam packed. I LOVE my books. I return to them often. When I don't know what to read, I just browse my shelves. My father-in-law also loves browsing our shelves and always finds something to take home with him to read. But we can't possibly keep all our books. Something has to give.
I've been slowly chipping away at the piles during the past couple of months. Last week, for example, I filled a box with books and took them to Green Apple Books, where I was happy to receive $39 of store credit (which will make a nice gift for someone). I'm committed to keeping all of the books that have been signed to me, as well as first editions by Eudora Welty and Walker Percy and other writers whose work has meant a lot to me. That means I'll still have many hundreds of books to sell and donate. Library, here I come!
Then there is the matter of my own books. I have a couple of copies of most of the translated editions of all of my books, as well as extra copies that I have in stock to take to events when there is no local bookstore on hand to sell copies, as well as copies of books published by my literary micro press, Fiction Attic. These add up to a couple hundred books. I can't take them with me, and I can't store them, which means I'll be pawning them off on unsuspecting strangers soon.
Paris Declutter Part 2: Downsizing our Furniture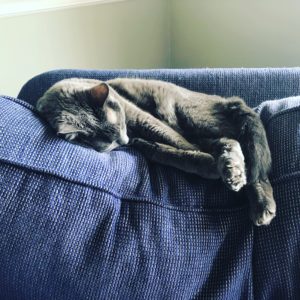 We have mahogany dressers that we bought for our first house in Daly City, nearly 20 years ago, that worked well in our Marina style home in San Francisco. We've never used them here, because they don't fit the midcentury modern style of the house. Fortunately, these will find a home with my sister in Napa. There were a couple of other furniture items they were able to put to good use as well.
We'll ship our beds, dining table, and dining chairs to Paris, but that still leaves a good bit of furniture to dispatch with. We've been storing the teak dining table we bought for our San Francisco house down in our unfinished basement, thinking we'd use it one day when we achieve our dream of having a house in Sea Ranch. But it's big and heavy and will have to go. We also have accumulated chairs, desks, the aforementioned bookshelves, side tables, and coffee tables that won't fit our new home. Craigslist is always good for a couple of larger items, and the Habitat for Humanity ReStore usually helps furniture to find a good home for a good cause.
Paris Declutter Part 3: Saying Goodbye to Clothes, Shoes, and Bags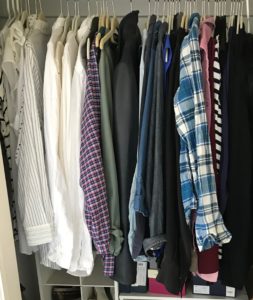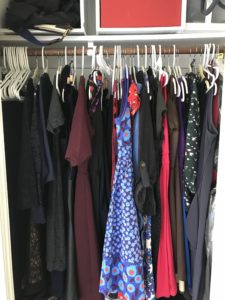 I confess, I have a sentimental attachment to my clothes. I still have the lime green dress I wore to my nieces' christening at their church in Noe Valley (one is in graduate school, and one has already finished graduate school), the dress I was wearing when I met my husband 23 years ago, a dress I wore while backpacking through Europe in the 90s (can you see I have a thing for dresses?). My clothes remind me of my life with the people I love. I know, of course, that the clothes don't hold the memories. In my defense, for many of the momentous things in my younger life, like my travels through China and my first year dating my husband, there are very few photos, because it was pre-digital.
We've also kept many of my son's baby clothes and baby shoes, his first baseball jersey, those sorts of things.
In addition to the sentimental clothes, I go through periods when I "reward" myself (for a book finished, a new contract, a publication date, a paperback publication day, a foreign publication day) or even destress by browsing online sale sites like Gilt, or those incredibly enticing Kate Spade sales. When I have a new book tour coming up, I tell myself it's a good time to buy new clothes. The whole capsule closet movement had the opposite effect on me. The idea is to downsize to a capsule wardrobe of 30 items per season, but it just made me notice all the recommended capsule items I don't own: nude pumps, navy blazer, brown leather bag, etc. Online shopping, no matter how deep the discount, is not a very productive way to spend one's time, as Ann Patchett notes in her essay for The New York Times, My Year of No Shopping.
Well, something has to be done about the clothes. By habit I fill a bag with donations about once a month, but that's not going to cut it for the Paris move. Now, when I look at my closet, I think, "Would I wear this in Paris?" If the answer is no, it's easier to let it go.
I've set up accounts at Poshmark and Tradesy to sell new-with-tags items (yes, it's a shame, but there are a few of those–dresses that never did meet the right occasion, shoes that were too narrow or high to keep but too pretty to return within the return window), as well as designer dresses that I bought for a certain occasion and only wear once.
Also, flats. Everyone says you need flats. I buy them and don't wear them because I really, really want that extra inch! Unfortunately, I've also bought some four-inch heels I can't walk in, which I'm also selling.
Why the 3-progned approach:
There will be plenty of other parts to this downsizing project, for sure. But I've started with books, furniture, and clothes because these are my albatross (or my albatross trio), and, taken together, they'll have a huge effect on downsizing in terms of volume.
What are you decluttering for 2018? Where are you starting? What's your albatross? Please share in the comments!
A few great resources for your own 2018 declutter:
Apartment Therapy January Cure
6 Decluttering Projects You Can Do in 10 Minutes, by Clean Mama
The 2018 Decluttering Challenge, by Nourishing Minimalism
Be More With Less, Courtney Carver's blog
Organized Enough: The Anti-Perfectionist's Guide to Getting (and Staying) Organized, by Amanda Sullivan
Let It Go: Downsizing Your Way to a Richer, Happier Life, by Peter Walsh
---
Also published on Medium.